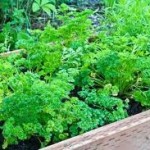 It is Spring at last and a great time of year to plant more greens in your garden and in to your diet! Let us start with a talk about parsley! Sure it's a pallet cleansing green used as garnish, but did you know it is also a powerful antioxidant weapon used against rheumatoid and osteoarthritis? Or that contains more iron than green spinach? Or that less than 1/2 cup of this superfood has 133% of your recommended daily vitamin C allowance?
In fact, parsley has one of the highest vitamin C levels of any herb. Why is that remarkable? Well, Vitamin C is a water-soluble antioxidant, and antioxidants neutralize free radicals, so Vitamin C can effect all water-soluble areas of the body, cleansing it of free radicals. Free-radicals bind to cells in the body causing cell damage or cell death and disease, so it is vital that they are eliminated whenever possible. Vitamin C also boosts the immune system and plays a role in reducing pain and inflammation, especially in cases of rheumatoid arthritis and osteoarthritis.
Other redeeming aspects of parsley have to do with the "volatile oils" it contains that are "chemoprotective" and help neutralize some carcinogens, like those found in cigarette smoke and charcoal grill smoke. Apigenin, another chemical abundant in parsley, has been shown to have potent anti-cancer qualities, working to inhibit the formation of new blood vessels necessary to feed a growing tumor.
What about Vitamins A and K? Well, a quarter-cup contains about 300% of the recommended daily allowance for vitamin K, which is an important factor in blood clotting and bone health. New research also suggests Vitamin K may help inhibit tumor and cancer cell growth. Parsley is rich in vitamin A, which is important for eye health, and is a great source of iron, calcium, magnesium and chlorophyll – this is the part that wipes out the smell of garlic, for fresh breath!
Lastly, if you are a gardener you should know that parsley grows amazingly well in our Pacific Northwest climate, even lasting throughout the winter. A two foot square patch can keep you fairly well stocked almost year round, just snip it off about an inch above the ground when you harvest one bunch at a time.
Although parsley has many benefits, it should not be consumed in large quantities by pregnant or lactating women and they should only consume it with moderation, in soups or broths. People taking prescription blood thinners such as Warfarin or Coumadin should consult their doctors before increasing consumption of leafy green vegetables.
Start out your next morning fresh with this great Green Smoothie recipe from Bon Appetit Magazine:
Ingredients
1/2 cup (packed) flat-leaf parsley (leaves and stems)
4 kale leaves (center ribs removed)
1 cup frozen organic berries (such as strawberries or raspberries)
1 banana (cut into pieces)
1 teaspoon ground flaxseed
Preparation
Purée ingredients with 1 cup water in a blender until smooth (add water if too thick).
Nutritional information
One serving contains:
Calories (kcal) 100
Fat (g) 1
Saturated Fat (g) 0
Cholesterol (mg) 0
Carbohydrates (g) 23
Dietary Fiber (g) 4
Total Sugars (g) 11
Protein (g) 2
Sodium (mg) 20
Parsley (raw) Nutritional value per 100 g (3.5 oz)
Energy
151 kJ (36 kcal) Carbohydrates
6.3 g – Sugars
0.9 g – Dietary fiber
3.3 g Fat
0.8 g Protein
3.0 g Thiamine (vit. B1)
0.1 mg (9%) Riboflavin (vit. B2)
0.2 mg (17%) Niacin (vit. B3)
1.3 mg (9%) Pantothenic acid (B5)
0.4 mg (8%) Vitamin B6
0.1 mg (8%) Folate
(vit. B9) 152 μg (38%) Vitamin C
133.0 mg (160%) Vitamin K
1640.0 μg (1562%) Calcium
138.0 mg (14%) Iron
6.2 mg (48%) Magnesium
5.0 mg (14%) Phosphorus
58.0 mg (8%) Potassium
554 mg (12%) Zinc
1.1 mg (12%)
REFERENCES:
1. http://en.wikipedia.org/wiki/Radical_(chemistry)
2. http://ndb.nal.usda.gov/ndb/foods/show/3112?fg=&man=&lfacet=&count=&max=25&qlookup=parsley&offset=&sort=&format=Abridged&_action_show=Apply+Changes&Qv=1&Q5783=.5&Q5784=1.0&Q5785=10.0
3. For Bon Appetit Magazine's complete Parsley Smoothie recipe check out: http://www.bonappetit.com/recipes/2012/04/parsley-kale-and-berry-smoothie