In his 20 years of experience, Dr. Forrest Cooper, DAOM has treated a multitude of conditions to heal imbalances in the body and mind, ranging from musculoskeletal pain to insomnia to mental/emotional well-being. If it is a condition that causes suffering, he has the knowledge and experience to develop an optimal treatment plan.
Throughout his career, Dr. Cooper has developed a unique treatment style combining acupuncture and Tui Na (Chinese Medical Massage) addressing an array of musculoskeletal conditions and pain. He uses orthopedic exams and physical assessments to better diagnose and treat, applying effective needling, Tai Na, and stretches for chronic and acute pain or injuries.
As a teacher at Oregon College of Oriental Medicine, he has influenced and inspired a generation of acupuncturists. He is a published scholar in peer reviewed journals such as Meridians and College Teaching. His book Tui Na: A Handbook for the Treatment of Musculoskeletal Conditions is an essential reference for practitioners who want to more accurately treat pain. Forrest also continues to teach cotinuing education courses for other acupuncture practitioners. You can see an interview discussing his specialities here: https://youtu.be/lZxzcBYU0IM
In his private life he enjoys the many offerings of the Pacific Northwest, including gardening in Portland's extended growing season.
Dr. Cooper is accepting new patients right here in SE Portland and currently accepts all our Vehicle accident insurance, Majoris and SAIF, as well as Kaiser's self referral via CHP. Additional insurance panels' vetting process for this location should be completed by late February 2023. We may also bill your insurance for acupuncture treatments with Dr. Cooper as an out-of network provider if allowed, or, you may use an HSA or FSA account for payment.
Schedule online with Dr. Cooper by using this link: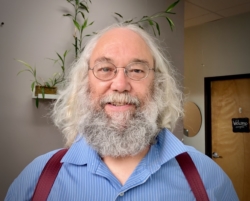 Please note, for CHP, some Cigna and Aetna health plans, our office may charge a non-covered services fee per a pre-disclosed agreement with patients. This policy adds an additional out of pocket cost for patients of up to $50 per visit, in addition to any copay or coinsurance. FSA or HSA may be used for these costs. The stagnant reimbursement rate for acupuncture by these carriers over the last decade in concurrence with a steady rise in both cost of living and cost of doing business has made this fee a necessity. This policy allows our providers to maintain the quality of care our patients expect and that we demand of ourselves as medical providers. Many clinics do not charge this fee and we completely understand if this causes you to look elsewhere. Even if paying this fee, there is still a significant difference between the cost for patients using their insurance and the out of pocket rate for treatment, starting at $130. Please, don't hesitate to contact us with any further questions or concerns.