Dixie Small has one main objective in her practice: to help you attain a greater level of health and vitality, overcoming barriers to wellness and achieving your personal health goals. Using the tools of Acupuncture & East Asian Medicine and an integrative approach, you are steadily returned to a greater state of balance in which the body can heal itself.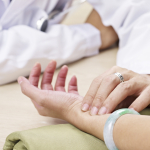 Practicing in Portland, OR since 2009, Dixie Small completed clinical internships at Oregon Health Science University (OHSU), Central City Concern, and the OCOM Clinic. She is a participating provider with most insurance companies. Licensed to practice Acupuncture and East Asian Medicine by the Oregon Medical Board, with a four-year post-graduate Master's degree in Acupuncture & Oriental Medicine (MAOM) from the Oregon College of Oriental Medicine (OCOM) and a Diplomate in Acupuncture from the National Certification Commission for Acupuncture and Oriental Medicine (NCCAOM), Dixie served on the Board of Directors for the Oregon Association of Acupuncture and Oriental Medicine (OAAOM).
In June of 2019 she completed the Doctoral program at OCOM, earning a Doctorate in Acupuncture and Oriental Medicine (DAOM) with a specialization in Women's Health and Geriatrics. The focus of her capstone research was on the treatment of post-stroke disorders specifically using the Xing Nao Kai Xiao Method, most aptly used in neuro-ortho rehabilitation. This is the method used in the film "9000 Needles".
Schedule your appointment online using the link or window below or call our office today to learn more.


Dixie graduated with the Master's in Acupuncture and Oriental Medicine (MAOM) in 2008 and began working in a busy, high volume Chiropractic clinic where she was able to treat many patients recovering from motor vehicle and traumatic injuries. This initial experience honed her clinical skills and continues to guide diagnoses and treatment even as her practice has grown to focus on an array of internal medicine and musculoskeletal health concerns.

The goal with Wellness At The Center was to bring a unique, one on one holistic practice to the community, to provide specialized care covering acupuncture and an array of approaches including dietary therapy and food intolerance examination, the use osupplementsts and herbal medicine, to help those suffering from chronic or acuteillness, injury sustained at work or play, in vehicle accidents, or other conditions requiring professional holistic medical guidance. In the course of the first few treatments, there is time taken to activate healing, address anxiety and depression, and analyze food or environmental contributors to disease and then create solid protocols to get back on track with a healthier, happier state of being. A path to greater health awaits and it can start right here.
Dixie came to be an Acupuncturist through the combination of a strong desire to help people, to relieve some suffering from pain and illness, combined with a passion for Taoist philosophy. Taoist philosophy involves observation of patterns found in nature, the detection of these patterns in the environment and in the human being, with modification of action to be in accordance with that natural fabric, also known as weft and wane, of the universe, or Tao. This empirical study with observation and then proper action still resonates so strongly even after years of studying and introspection.

To merge a desire to help others with this passion for Taoism – and actually relieve the pain people can experience through the practice of this science – is such an amazing opportunity. Through this practice, Dixie has seen countless changes in those who engage this medicine as patients, freeing themselves from pain and entering a greater level of wellness.